Consultants appointed to draw up Manston masterplan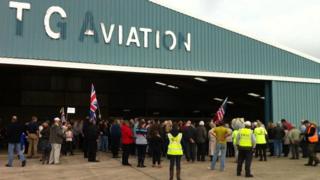 Consultants involved in the Canada Water and Brent Cross redevelopments in London are to draw up a masterplan for the Manston Airport site in Kent.
Homes, shops, schools and business units will be in the plan drawn up by property consultants GVA and designer Planit Intelligent Environments.
The defunct airport was sold to developers Trevor Cartner and Chris Musgrave in September.
The pair has a majority stake in the 800-acre (324 hectare) site.
They have said the 20-year, £1bn redevelopment of Manston will create more than 4,000 jobs.
"We believe we have assembled a first class team to deliver high quality plans for the site," said Mr Musgrave.
"The masterplan will take approximately eight months to develop, and following this we'll be seeking feedback through a full period of public consultation."
He and Mr Cartner are part of the consortium behind Discovery Park, Sandwich, which is being developed on the site vacated by pharmaceutical company Pfizer in 2011.
Thanet District Council, which opposed the closure of the airport in May, is still in talks about a compulsory purchase order (CPO), with the aim of reopening the business.
On Saturday, hundreds of campaigners who want the airport reopened gathered at the site for a visit by US company RiverOak which could become a partner in the CPO.
Manston Airport was bought for £1 by Ann Gloag, co-founder of the Stagecoach Group, last October, but was closed five months later with the loss of 150 jobs.