Kent Police begins two-week firearms amnesty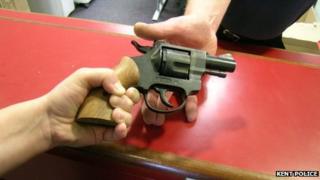 A two-week long gun amnesty has been launched by Kent Police.
The force is running the campaign as part of a national scheme to remove illegally owned and unwanted weapons.
Those unable to visit the front counters of police stations can instead call 101 to arrange for an officer to collect their unwanted guns.
Unwanted and imitation firearms, ammunition and air or gas-powered weapons can be handed in. The amnesty ends at 23:00 GMT on 21 November.
Assistant Chief Constable Jo Shiner said: "It may be their gun licence has expired, it may be they have had a clear out and discovered some ammunition they no longer wish to keep, it may be they no longer have a use for a firearm - those people should get in touch and we will safely dispose of it.
"Any weapon handed into Kent Police is one which can no longer be used in a crime."