Weekend closures of A249 Sheppey Crossing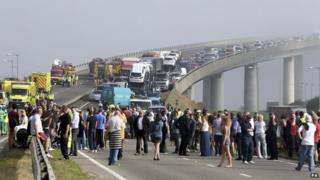 The main route between the Kent mainland and the Isle of Sheppey is being closed each weekend until early December for maintenance work.
The four-lane Sheppey Crossing over the River Swale was opened in July 2006 at a cost of £100m.
The 115ft-high (35m) bridge on the A249 links Queenborough on Sheppey and Iwade on the mainland.
Traffic will be diverted over the Kingsferry bridge which is raised and lowered to allow shipping to pass.
The northbound carriageway will be closed between 08:00 GMT on Saturdays until 18:00 on Sundays on 8/9, 15/16 and 22/23 November.
The southbound carriageway will shut between the same times on 29/30 November and 6/7 December, the Highways Agency said.
Kevin Brown from the agency said: "We are closing the crossing over the weekend as this is when traffic flow is at its lowest and this will enable us to complete the work more efficiently with as little disruption to road users as possible."
There have been calls for greater safety improvements on the bridge after a 150-vehicle pile up in foggy weather on 5 September 2013.
On 1 July, Deborah Roberts, of Sheerness, and her eight-year-old son Marshall were killed in a collision on the crossing. Her seven-year-old son, Archer, who was also in the car, survived.
A Highways Agency spokeswoman said resurfacing was being carried out, which would improve traffic flow, but she was unaware of any safety improvement works being carried out.