Rochester and Strood by-election: Schools debated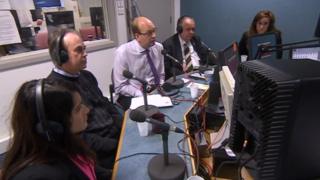 Healthcare and education in Rochester and Strood dominated a debate between the five main candidates standing in the forthcoming by-election.
Conservative candidate Kelly Tolhurst and UKIP's Mark Reckless clashed over funding for Strood Academy and the closure of two infant schools.
Labour's Nausuaba Khan, the Greens' Clive Gregory and the Liberal Democrats' Geoff Juby also took part.
The debate was broadcast on BBC Radio Kent before Thursday's poll.
The by-election was triggered by the defection of Mr Reckless from the Conservative Party to UKIP.
The five candidates took part in a televised debate on 10 November.
The hour-long radio programme on Monday, hosted by Julia George, heard that Medway Council came 142nd out of 152 in key stage 2 results and second to last for good or outstanding Ofsteds.
Miss Tolhurst defended her role as cabinet member at Medway Council for school improvement, a post she has held for 18 months.
She said she set up a post-Ofsted board, was sharing best practice and targeting extra cash for schools with issues.
'Retain good teachers'
Mr Reckless said during his time as MP he fought to keep two infant schools open and campaigned to get £26m for Strood Academy.
But Miss Tolhurst argued funding was secured before he was MP and they were following a Labour mantra of shutting down failing schools.
Labour's Naushabah Khan: said: "I think one of the biggest issues is the ability to get good teachers here but also to retain them", adding that she would like to see a mentoring system for teachers.
Mr Gregory said the education system needed to be "completely overhauled" so teachers could get back to teaching instead of concentrating on league tables.
'Paired with outstanding hospital'
Mr Juby said the problem was power being taken away from authorities and being given to academies.
He said: "Sometimes we do not have the money now to have the right number of people at the centre to advise people out in the schools."
Healthcare was also debated as Medway Maritime Hospital is in special measures and mental health beds have shut.
Miss Khan said Labour policy was to employ 8,000 GPs from a £2.5m fund and that she also wanted to fight the privatisation of the NHS.
But Mr Reckless accused Labour of starting privatisation and "setting Medway loose as a foundation trust" and called for a single elected health board.
Mr Gregory said getting management right was the key to improving the hospital and opposed NHS privatisation.
Mr Juby said he wanted to increase funding for mental health services and Miss Tolhurst said she wanted to pair Medway hospital with an outstanding hospital to drive it out of special measures.
The candidates had already each set out their top three priorities in their election campaign.
---
The full list of candidates, in alphabetical order by surname, is:
Barker, Mike - Independent
Challis, Christopher - Independent
Davidson, Hairy Knorm - Official Monster Raving Loony Party
Fransen, Jayda - Britain First
Goldsbrough, Stephen William - Independent
Gregory, Clive - Green Party
Juby, Geoff - Liberal Democrats
Khan, Naushabah - Labour
Long, Nick - People Before Profit
Osborn, Dave - Patriotic Socialist Party
Reckless, Mark - UK Independence Party
Rose, Charlotte - Independent
Tolhurst, Kelly - Conservative