Ex-inmate 'confused' over Claire Tiltman murder statement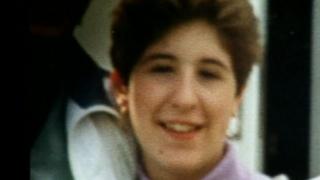 A prisoner who befriended a man accused of killing a Kent teenager has said he can no longer recall their discussion.
Convicted sex offender Stefan Dubois told the Inner London Crown Court he may have "confused" comments from Colin Ash-Smith with those of another inmate.
Ash-Smith, 46, denies murdering Claire Tiltman, 16, in Greenhithe in 1993.
Prosecutor Brian Altman, QC, said while in prison for stabbing attacks on two other women, Ash-Smith effectively confessed to Dubois he was the killer.
The court has heard that Claire was killed in a frenzied knife attack in an alleyway near her home, four days after her 16th birthday, on 18 January 1993.
'Zebra crossing'
Taking the witness stand in the trial, Dubois told the jury he had served time alongside Ash-Smith in Wakefield Prison and became friendly with him over games of Dungeons and Dragons.
He said he had had only a vague idea of the crimes for which he had been sentenced.
"One of the things that we would joke about [was that] he'd stabbed his victim multiple times and missed every vital organ," Dubois said.
"The joke was that we wouldn't have him on the prison darts team as a result," the court heard.
However, Dubois said his memory "is not what it was" due to heavy medication, and he could not clearly remember a conversation he had with police officers at his home last year, or making a statement about it.
Asked to read his February 2013 statement to the jury, Dubois said: "According to this statement, 'Colin mentioned something about a zebra crossing and being close to a zebra crossing ... The impression I got from Colin was telling me that he was angry, and was looking for something or someone'."
Prosecutors said the mention of a crossing was a crucial detail "let slip" by Ash-Smith that betrayed his involvement in Claire's killing.
But Dubois told the court he was not certain it was Ash-Smith who had mentioned that detail.
"I may have confused what Colin was saying with what [another inmate] was saying, it was a long time ago unfortunately," he said under cross-examination from the defence team.
The trial continues.