'Homosexual acts' in Morocco man Ray Cole charges dropped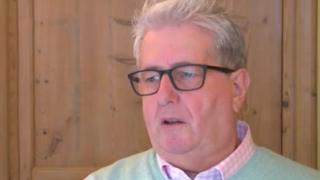 A British man, jailed for "homosexual acts" in Morocco, has spoken of his relief now the charges against him have finally been dropped.
Ray Cole, from Deal, in Kent, was held in Marrakesh with a 20-year-old friend he was visiting after "homesexual images" were found on his phone.
The 70 year old was freed after 20 days in a jail he described as being like a "concentration camp".
The British Consulate said neither Mr Cole nor his friend would face charges.
Mr Cole was visiting Jamal Jam Wald Nass, a friend he met online, when the pair was stopped by police.
He told the BBC he was aware homosexuality was a crime in Morocco but believed authorities turned a blind eye if relationships were not flaunted.
'Always discreet'
His detention in September triggered an online campaign for his release, which finally happened on 7 October.
Mr Cole told BBC News: "I'm really relieved. There's no more to worry about, no more legal hurdles to cross."
The MP for Dover and Deal, Charlie Elphicke, who was involved in the campaign to release Mr Cole, said: "There was no reason for them to be arrested because they were always discreet and they did nothing in public."
On his return to England last month, Mr Cole said conditions at the prison in Marrakesh were horrendous and that he had slept on the floor.
"I've seen things I never knew existed. It's not a prison, it's a concentration camp," he said.