Tens of thousands sign up for new Dartford Crossing accounts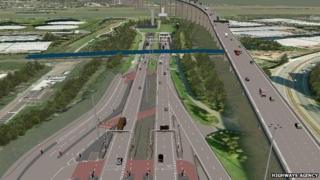 More than 70,000 accounts have been set up to pre-pay charges at the Dartford Crossing when the toll booths are removed, the Highways Agency has said.
New account-holders have registered more than 100,000 vehicles for the Dart Charge website.
The last cash payment will be taken at the crossing at 22:00 GMT on 29 November. It will be free after 22:00 GMT.
The new payment system will begin at 06:00 GMT on 30 November.
Reduce congestion
The Highways Agency said removing the toll booths would help reduce congestion at the crossing, where long queues build up regularly.
The current 27-lane system will be replaced by four expressways in each direction and lanes to help turn away vehicles unsuitable for tunnels.
Drivers will also be able to make one-off payments in advance or by midnight the day after crossing by phone, online, or in payzone shops.
Payments can also be made in advance by post.
Charges for cars will go up from £2 to £2.50 from 30 November but drivers using a pre-pay account will save up to one third.
"For most people using the Dartford Crossing, a prepay account will be the cheapest and most convenient way to pay the crossing charge," said Highways Agency project director Nigel Gray.
"I'm really encouraged by the take-up so far."
An average of more than 140,000 vehicles use the River Thames crossing between Kent and Essex every day.
It consists of the Queen Elizabeth II Bridge and two tunnels.