Rochester and Strood: Mark Reckless win never in real doubt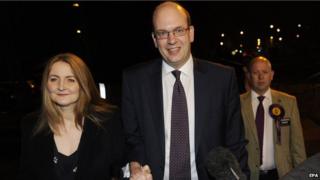 After what seemed like a long by-election campaign, there was another very long wait last night for the result.
It was after 04:00 GMT when Rochester and Strood's former MP Mark Reckless was confirmed as the constituency's next MP.
I say confirmed, because there was never really any doubt that he was going to win the by-election he triggered by defecting to UKIP from the Conservatives.
The only question was by how much he would win the seat?
A week before polling day UKIP were about 12 points ahead in the polls.
'Seat is winnable'
The Tories, who had resigned themselves to losing despite David Cameron's pledge to "throw the kitchen sink" at winning the by-election, will have comforted themselves with the fact that the UKIP win was less than double digits.
In the end Mark Reckless secured a majority of almost 3,000 - about 7% more of the vote than Conservative candidate Kelly Tolhurst.
I expect that will be enough to quell panic in the Tory ranks. Their message this morning is that the seat is winnable for them in the general election in May.
While it wasn't a good night for the Conservatives it was terrible for Labour.
Shadow attorney general Emily Thornberry was forced to resign following the backlash from a tweet she posted showing a house in Rochester with three St George's flags and a white van parked outside. She was accused of sneering and Ed Miliband was said to be apoplectic.
Why does it matter?
Well, Labour are losing working class voters to UKIP and images like that do nothing to allay fears that the party is out of touch with hard working people across the country.
The Greens will be pleased with their performance, coming fourth and pushing the Liberal Democrats into fifth place.
And that takes me to the real disaster of the night - the Lib Dems' performance.
'Just gave up'
Their candidate Geoff Juby managed to shrink a 7,000 strong vote in 2010 to just 349 votes and lost his deposit.
With just 0.9 % of the vote, he is believed to have achieved the lowest ever share of the vote for a main Westminster party.
I don't think it is entirely fair to just blame the candidate though. While the Conservatives threw resources at this by-election, with the PM visiting the constituency five times, the Lib Dems appeared to do nothing.
When I called them and asked about ministerial visits they told me: "We don't have a dog in that fight."
Now you could say they - like Labour - were keen to portray it as a two horse race between the Tories and UKIP but it seems they just gave up and in the process hung their candidate out to dry.
What has changed?
Liberal Democrat MPs and candidates in marginal seats will no doubt look at this result and be very worried.
So, the morning after the night before and Mark Reckless has already been sworn back into parliament - has anything really changed?
You bet it has. If any of the main party leaders were complacent about UKIP before they are certainly not now.
And any sense of relief - however minor - for the Conservatives that the defeat was not as bad as predicted will be overshadowed by the very real fear of who may defect next.
---
Rochester and Strood by-election full results
Mark Reckless (UKIP) 16,867 (42.10%)
Kelly Tolhurst (Conservative) 13,947 (34.81%)
Naushabah Khan (Labour) 6,713 (16.76%)
Clive Gregory (Green) 1,692 (4.22%)
Geoff Juby (Lib Dem) 349 (0.87%)
Hairy Knorm Davidson (Official Monster Raving Loony Party) 151 (0.38%)
Stephen Goldsbrough (Ind) 69 (0.17%)
Nick Long (People Before Profit) 69 (0.17%)
Jayda Fransen (Britain First) 56 (0.14%)
Mike Barker (Ind) 54 (0.13%)
Charlotte Rose (Ind) 43 (0.11%)
Dave Osborn (Patriotic Socialist Party) 33 (0.08%)
Christopher Challis (Ind) 22 (0.05%)