Locals react to UKIP by-election win in Rochester and Strood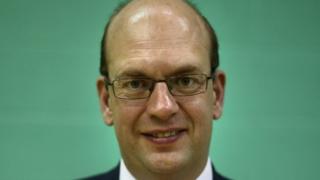 After Mark Reckless regained his seat in Rochester and Strood - this time as UKIP's second MP - floating voters have been giving their reaction to Radio Kent.
The 43-year-old politician defected from the Conservatives in September.
A long campaign has seen the constituency inundated with media and leading politicians campaigning for their candidate.
David Cameron visited five times and Nigel Farage four times. The only exception was the Liberal Democrats who failed to send anyone.
Mr Reckless won with a majority of 3,000 - a figure many feel the Conservatives could overturn in 2015.
Speaking on a panel of floating voters organised by Radio Kent, Hayley Mills, from Rochester, said she did not know whether Mr Reckless would be a "permanent fixture".
"I think most people probably have voted UKIP because they've tapped into a discord that people are identifying with," she said.
"I'm not sure if it's just personal ambition from Mark, or whether he really understands the constituency he's representing."
The MP, who was sworn back into Parliament earlier, denied this.
In his victory speech, he said: "Rochester and Strood was our 271st most winnable seat
"If we can win here we can win across the country. If you vote UKIP, you get UKIP."
---
Analysis
By Louise Stewart, BBC South East political editor
After what seemed like a long by-election campaign, there was another very long wait last night for the result.
It was after 04:00 GMT when Rochester and Strood's former MP Mark Reckless was confirmed as the constituency's next MP.
I say confirmed, because there was never really any doubt that he was going to win the by-election he triggered by defecting to UKIP from the Conservatives.
The only question was by how much he would win.
Read more of Louise's blog here.
---
Kelly Tolhurst, who was the losing Tory candidate, vowed to stop Mr Reckless regaining his seat.
"I'm going to fight every day until May 2015 to return a Conservative MP in this constituency for the people of Rochester and Strood," she said.
However, another of the radio panel members, Malcolm Hazleton, from Strood, blamed the Conservatives for lowering the tone of the debate.
"I feel there's been a lot of negative campaigning, particularly form the Tories," he said.
"I think the political system is broken and I think that's why so many people are voting UKIP.
"I quite admire Nigel Farage, I don't like him, but I admire him, because he's got a simple message out and people have bought it."
Labour's Naushabah Khan came third in the seat losing more than half of the votes the party gained in 2010.
Michael Wearing, from Middle Stoke, said he voted Liberal Democrat in the last election.
"I voted Green and with good reasons, basically I didn't want the Tories or the Liberals back in power," he said.
"I think they've been disastrous for this country."
The Liberal Democrat candidate, Geoff Juby, polled only 349 votes and lost his deposit. In the 2010 general election the Lib Dems received 7,000 votes.
He said: "It's... a bit disappointing after there's been so many years of a Liberal Democrat vote, but that's democracy."
And the Green candidate, Clive Gregory, said his party, which polled 1,692 votes was a victim of tactical voting in Rochester.
He said: "I think had we got everyone who wants to vote Green to vote Green we'd definitely been in with a deposit-saving situation and maybe even pushing into the high [vote share figures], even towards 10%," he said.
---
Rochester and Strood by-election full results
Mark Reckless (UKIP) 16,867 (42.10%)
Kelly Tolhurst (Conservative) 13,947 (34.81%)
Naushabah Khan (Labour) 6,713 (16.76%)
Clive Gregory (Green) 1,692 (4.22%)
Geoff Juby (Lib Dem) 349 (0.87%)
Hairy Knorm Davidson (Official Monster Raving Loony Party) 151 (0.38%)
Stephen Goldsbrough (Ind) 69 (0.17%)
Nick Long (People Before Profit) 69 (0.17%)
Jayda Fransen (Britain First) 56 (0.14%)
Mike Barker (Ind) 54 (0.13%)
Charlotte Rose (Ind) 43 (0.11%)
Dave Osborn (Patriotic Socialist Party) 33 (0.08%)
Christopher Challis (Ind) 22 (0.05%)