Police watchdog probe into Kent PCC Ann Barnes' car crash widens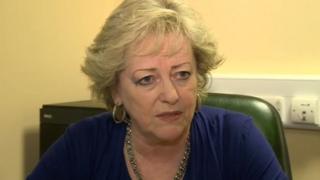 The police watchdog is investigating whether an officer was obstructed during inquiries into a crash involving Kent's police and crime commissioner.
The Independent Police Complaints Commission (IPCC) began an inquiry into whether Ann Barnes was legally insured after the crash in Dartford in September.
The investigation has now been widened.
Mrs Barnes's office said the PCC could not comment during an ongoing inquiry.
A spokesman for the IPCC said it was investigating whether the PCC had appropriate insurance to cover business use of her car when she was involved in the car crash.
He said the IPCC had set out its terms of reference for the inquiry, which would also determine how long the relevant insurance was not in place, if that was the case.
"The IPCC is also investigating whether a police constable was obstructed in the execution of their duty when initial enquiries in the PCC's insurance cover were being made by Kent Police," he added.
The crash on 16 September involving Mrs Barnes's Mercedes was referred to the IPCC by the PCC's office on 26 September.
Mrs Barnes's crashed with another car and hit a tree in Princes Road. No-one was seriously hurt.