Medway Maritime Hospital misses A&E targets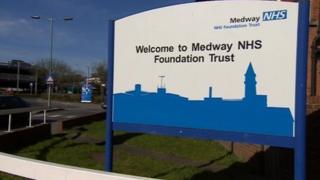 A Kent hospital is one of the England's worst-performing for the length of time it takes to treat patients in A&E, new NHS figures show.
Throughout October, Medway Maritime Hospital failed to meet a government target of treating 95% of A&E patients within four hours.
In the week ending 26 October it was England's worst-performer, treating only 75% of patients within the target.
The Gillingham hospital has been in special measures since July 2013.
Dr Phillip Barnes, acting chief executive of Medway NHS Foundation Trust, said: "Compared to last year, attendance [at A&E] has increased by nearly 9%.
"The number of ambulance transfers has increased by about 6.5% and that's despite the ambulance service working very hard alongside us so they don't bring us every patient who dials 999."
---
Mark Norman, BBC South East Health Correspondent
One in four people who use the A&E department will not be seen within the four-hour waiting time as set by the government.
According to the trust's own figures, 10 people had to wait more than 24 hours in the last year.
The trust has told me it will meet the 95% target by the end of March.
That's a big ask for a very busy A&E department which sees hundreds of patients every single day.
---
The hospital trust was put into special measures following concerns about mortality rates and standards of care.
In September the hospital was rated "inadequate" and told it would stay in special measures.
The hospital said since being put into special measures, it had employed two new consultants and three more matrons in A&E and was due to open a children's A&E department next month.
A report by the Care Quality Commission, to be published on Wednesday, is expected to be critical of the hospital.