Sheppey Crossing safety improvements must be made, says MP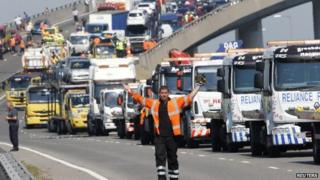 Calls for improved safety measures on the Sheppey Crossing, which was the scene of a 150-car pile-up, have been made in the House of Commons.
Gordon Henderson, MP for Sittingbourne and Sheppey, called for the Highways Agency to improve the A249 bridge urgently.
Dozens were hurt in the multiple crash, on 5 September 2013. In July, a woman and her son died on the crossing.
The agency said it was waiting for a police report into the July crash.
'Increasingly concerned'
Campaigners have already called for improvements on the bridge, including a hard shoulder, speed limits and improved lighting.
Later, Mr Henderson told the Commons: "What I do not understand is why a review of safety cannot be undertaken on last year's series of crashes.
"I am increasingly concerned about the length of time the investigation is taking by the police and I am worried about what might happen while the Highways Agency waits for their report."
He said there was a review of safety by the Highways Agency after the multi-vehicle accident.
'Take full account'
However, he added its report stated police investigated only individual crashes and not whether the design of the bridge played a part in the cause.
Mr Henderson said the Highways Agency would not undertake a review of safety on the bridge until it received the police report about it.
Kent Police said a 31-year-old man had been arrested and bailed until January 2015 over the crash which left Deborah Roberts, of Sheerness, and her eight-year-old son Marshall dead.
Ch Insp Matthew Kendall said: "Once our enquiries are complete, the matter will go through the required judicial process."
In a statement, the Highways Agency said: "Safety is one of our top priorities.
"We regularly carry out our own internal reviews, and following any incidents where the police carry out an investigation and make recommendations, we naturally take full account of any of those recommendations."