Calls to publish 'isolation' school report from MP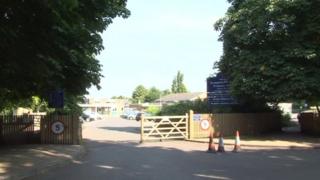 Details from two reports into a primary school which allegedly locked pupils in an isolation room should be published, an MP has said.
Medway Council inspected Brompton Westbrook School, in Gillingham, and said four senior teachers had "a case to answer" for gross misconduct.
However, the school said it would be taking no action.
UKIP's Mark Reckless, MP for Rochester and Strood, called for greater transparency.
Both the school and the council have written reports following complaints from a whistleblower.
The council said when officers visited the school they were shown a room 7ft (2.1m) by 4ft (1.2m) with a lock on its door.
The door was removed that day under the supervision of Medway Council staff so the room could not be locked again.
The council concluded there was a case of gross misconduct to be answered and four staff should be subject to a disciplinary hearing, which could result in dismissal.
However, the council said it would not publish its report as it does not want to identify any children.
'Public domain'
Mr Reckless said: "The school has now become an academy. It wasn't when these events took place.
"I will write to the chairman of governors at the academy school and ask for at least a summary of this latest report they commissioned to be placed in the public domain so that parents and others can judge for themselves."
The school said the investigation it commissioned was thorough and was conducted by a company with appropriate experience.
A spokesman said: "As a result of the investigation, trustees have full confidence in all staff of the school to continue their outstanding work."
He added: "For legal reasons, we are not able to publish the final report or information from it as it is confidential and legally privileged."