Dover border officers find 13 stowaways in tanker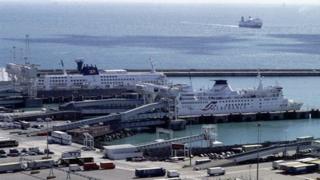 Thirteen stowaways have been found in a tanker containing plastic granules that was stopped at Dover.
The Home Office said the vehicle was searched on Tuesday at Dover's Eastern Docks.
All 13 migrants - 11 from Syria and two from Afghanistan - are thought to be unaccompanied minors.
They were taken into care following interviews with Kent social services to assess their ages. The Home Office said all of the group were fit and well.
Armed attacks
There have been a number of large-scale discoveries of stowaways in south-east England in recent years, leading to demands for more protection for lorry drivers.
The Freight Transport Association has called for the European Union to bring in stricter border controls to deal with what it describes as a "worsening situation"
Truckers have complained about armed attacks from people trying to board vehicles destined for the UK.
An e-petition has attracted more than 3,000 signatories calling for, among other things, the abolition of fines of up to £2,000 per migrant which can be imposed on lorry drivers by the UK government.
However no action is being taken against the driver of the vehicle stopped in Dover on Tuesday, a spokesman for the Home Office said.