Plans to halve Kent community warden numbers scrapped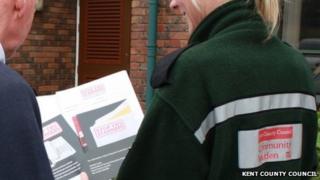 Proposed cuts to the number of community wardens in Kent are being scrapped after a public consultation.
Kent County Council (KCC) had planned to reduced the number of uniformed wardens from 79 to 40.
The council said the cut in the number of community wardens who tackle low-level crime and antisocial behaviour would have saved about £1m each year.
District and parish councils had praised the wardens as part of a six-week consultation on the plans.
Mike Hill, KCC's cabinet member for community services, said: "We carried out a six-week consultation, which produced nearly 1,200 responses.
"More than 100 of those were from district and parish councils and the vast majority praised the wardens, either as individuals or as a service, and were keen to see it retained."
He said the council still planned to go ahead with the closure of three community warden service area offices with a reduction from four administration posts to one.
A council spokesman said the number of wardens had already been reduced to 70 as a result of staff leaving. He said they would not be replaced.
"We will also need to make some minor reorganisation to the warden service, because there is an imbalance in the provision across certain parts of the county," he said.
The council's cabinet will make a decision on the plans in January.