'Inspirational' daughter remembered after drowning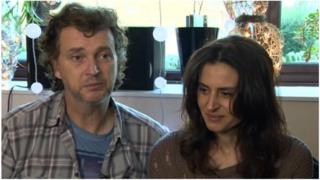 The parents of a charity volunteer from Canterbury who drowned in the sea off South Africa have paid tribute to their "inspirational" daughter.
Alice Barnett, 19, had been working with underprivileged communities in a township near Port Elizabeth.
She and Summer Robertson, 21, from Shrewsbury, both died on 4 December.
Miss Barnett's parents said they had been overwhelmed by an "outpouring of love and support" since her death.
'Doing something for her'
Her father, Pete Gallagher, said: "What we at first thought, perhaps was going to be an intrusion on our grief has turned out to possibly be the biggest comfort."
Her parents have set up a JustGiving page to honour her and raise money for the charity she worked for in Cambodia and South Africa.
Her mother, Suzie Barnett, said: "We want to make her proud of us in the same way we're proud of her.
"And also for her friends and family to feel like they're doing something for her."
It is thought she and Miss Robertson had been swimming with three other people when they were hit by a large wave.
The pair were finishing a 10-week placement in South Africa.