Cling film Dover 'sex death' jury considers verdict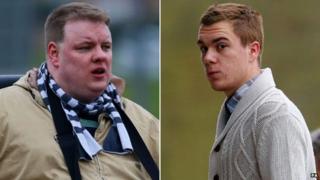 A jury is considering its verdict in the trial of two men accused of causing the death of a man in a sex game at a flat in Dover.
Alun Williams, 47, died from a heart attack after being wrapped in cling film and PVC tape during the bondage session, Canterbury Crown Court heard.
Richard Bowler, 35, and David Connor, 23, of Sturry Road, Canterbury, deny manslaughter through gross negligence.
A post-mortem report said the wrapping had caused Mr Williams to dehydrate.
Influence of drugs
The court had heard that Mr Williams, a head chef for P&O Ferries, would meet men online for sex and that he had an interest in mummification and bondage.
He had visited the men at the flat, in East Street, Dover, where Mr Bowler, who suffers from cerebral palsy, and Mr Connor, his informal carer, were then living, the court was told.
Mr Williams died on 20 August 2013.
Mr Connor told the court Mr Bowler had told him Mr Williams had asked to be wrapped in cling film.
The post-mortem report concluded that Mr Williams had been under the influence of drugs at the time of his death.