Kent family's fury over post-mortem examination on elderly woman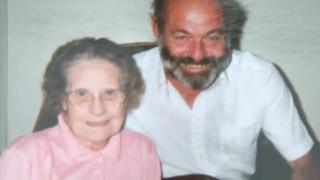 The family of an elderly woman who died in a care home while under a deprivation of liberty order have criticised the fact a post-mortem and inquest were required.
Madge Warren, 93, died in her care home in Alkham, Kent, in November.
As she was deemed to lack the mental capacity to make her own decisions, her death was automatically referred to a coroner.
Charlie Elphicke MP said he would raise the matter with the justice secretary.
Mrs Warren's nephew, Ron Armitage, said his aunt died from apparent natural causes and had been extremely ill for some time.
Her family were making arrangements for her funeral when they were told there would have to be an inquest.
'Absolutely fuming'
"To say that I was unhappy about this would be to stretch things a bit - I was absolutely fuming," he said.
"This is a lady of 93 who has died perfectly naturally in perfectly normal surroundings.
"The problem we have has been caused by Deprivation of Liberty Safeguard procedures."
When someone under the order passes away, some coroners expect care homes to refer the death to them.
Mr Elphicke, who is the Dover MP, said: "These regulations apply so there's going to be a post-mortem and an inquest potentially in every case like this.
"That's clearly absurd and the chief coroner needs to think again."
Mrs Warren's funeral took place on 24 November and her inquest is scheduled for 7 January.