Elmley prison inmates moved from overcrowded jail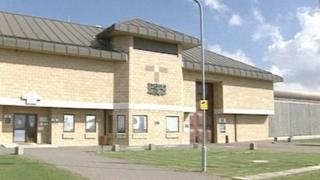 About 150 prisoners have been temporarily moved from an overcrowded prison to "help provide a more stable environment".
The Ministry of Justice (MoJ) said extra officers had also been deployed at HMP Elmley on the Isle of Sheppey.
In November, a damming report highlighted staff shortages and overcrowding at the jail in Kent.
Nine people have died at Elmley in 2014, including four from suspected self-inflicted injuries.
The report by Her Majesty's Inspectorate of Prisons (HMIP) said the prison was designed for 985 inmates but was holding 1,252 men.
'Safe and decent'
High-risk inmates were also not being properly assessed and managed, according to inspectors.
A MoJ spokesman said it had "stepped up support for staff" at Elmley prison over the last six months. It confirmed about 150 inmates had been moved from the prison.
"Additional officers have been deployed and a number of prisoners moved out on a temporary basis to help provide a more stable environment," he said.
"Permanent recruitment is underway and the prison will continue to receive specialist support until vacancies are filled to maintain a safe and decent regime at HMP Elmley."