Medway councillors urged to defect to UKIP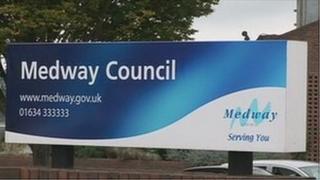 A UKIP member on Medway Council has sent an email to fellow Tory and Labour councillors urging them to defect.
It was sent by Chris Irvine, who defected from the Tories along with the Rochester and Strood MP Mark Reckless.
Tory deputy leader Alan Jarrett said it was a "desperate measure", while Labour group leader Vince Maple said it showed UKIP's "talent pool was very limited".
Neither Mr Irvine or Mr Reckless were available for comment when approached by the BBC.
'Make the change'
The email accused the main political parties of letting down councillors in Medway.
Mr Irvine said his party was aiming to change the format of Medway Council and it was his intention "to field a full slate of candidates to contest all 55 seats in Medway next May".
"We're not aiming to just make up the numbers, we're aiming to take control of the council. There will be casualties," the email read.
"Many worthy councillors representing legacy parties will not be re-elected unless they make the change."