First air raid on Britain centenary marked in Dover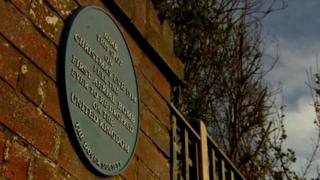 Flowers have been laid to mark 100 years since the first aerial bomb dropped on British soil.
The device landed in a garden near Taswell Street, Dover, on 24 December 1914, leaving a 10ft-wide crater and blowing a gardener out of a tree.
It is thought the bomb was intended for the nearby Dover Castle which was being used as a World War One military base.
Mayor of Dover, Pam Brivio, laid a floral tribute underneath a blue plaque that marks the blast site.
'Terrific explosion'
The town's honorary chaplain, the Reverend Peter Sherred, also spoke and said prayers during the ceremony.
The plaque at the site reads: "Near this spot on Christmas Eve 1914 fell the first aerial bomb ever to be dropped on the United Kingdom."
Eyewitness Mr Youden, told the Imperial War Museum in 1989: "There was a terrific explosion and my mother said 'Quick we're being shelled. Go down to the cellar.'
"This was because a destroyer had put a few shells into Hartlepool on the north-east coast of Britain a few days before.
"We didn't then know that it was possible for an aeroplane to come over and drop bombs in anger."
By the time the war ended, 184 bombs had been dropped on Dover, killing 23 people and injuring 71.
"Being the first one to land on British soil that impact must have been felt in a much wider area around the UK," said Dover Deputy Mayor, Sue Jones.
"It must have been absolutely terrifying to suddenly feel that your children weren't safe."
A fragment of that bomb, later presented to King George V, is now kept at Imperial War Museum North.
---
World War One air raids
Nearly 9,000 German bombs were dropped on British soil during attacks by 51 airships and 52 aeroplanes.
A total of 1,412 people were killed and 3,408 were wounded.
London suffered the most casualties, with 670 deaths and 1,962 people injured.
Source: Imperial War Museum
---