Strong winds bring down Margate's rollercoaster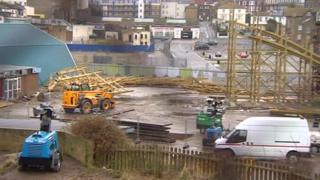 Overnight winds have brought down some of the partly restored rollercoaster at the Dreamland fun park site in Margate.
The Grade II*-listed Scenic Railway has been undergoing reconstruction work as part of an £18m regeneration project to reopen the Kent attraction.
Built in 1920, it fell into disrepair when the site shut in 2005 and was then damaged by an arson attack in 2008.
The ride is due to reopen by the summer and Thanet District Council said that target would still be met.
Vintage rides
After inspecting the site on Saturday, council leader Iris Johnston said it was a "minor setback".
"It's not going to change our plans for next year.
"The fact that it was in mid-construction means that it can be salvageable, and I'm very pleased to see that the company were on site immediately to get on with the work," she said.
Restoration work on the rollercoaster includes dismantling it and replacing all the wooden parts.
Vintage fairground rides from around the UK are also being restored and recreated for the new fun park, which will be run by the Dreamland Trust, as well as classic sideshows, vintage cafes, restaurants and gardens.