Elmley prison officers injured by inmate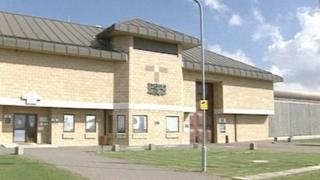 Two prison officers have been injured in an attack by an inmate at a jail on the Isle of Sheppey in Kent.
The Prison Officers' Association said it was believed the inmate at HMP Elmley had taken synthetic cannabis.
The Ministry of Justice said both officers were taken to hospital, one with a suspected broken leg, following the assault on Tuesday night.
It said the matter had been referred to the police and an investigation was taking place.
A third officer was assaulted at the prison last week.
Extra officers
In November, an inspection report highlighted staff shortages and overcrowding at the jail.
It also found that high-risk inmates were not being properly assessed and managed.
About 150 prisoners were then temporarily moved from the prison just before Christmas to "help provide a more stable environment".
Extra prison officers were also deployed at Elmley.
Nine people have died at the prison in 2014, including four from suspected self-inflicted injuries.