Tunbridge Wells unfit pitches stop Bayham home games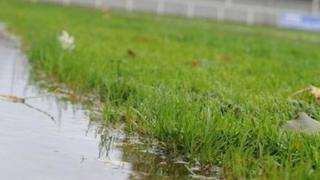 Hundreds of young footballers are facing weeks of being unable to play or train at their home ground in Kent because its pitches are unfit.
Foresters FC, which runs teams for boys and girls from age five, claims poor maintenance is to blame for the state of Bayham ground in Tunbridge Wells.
Joint chairman Stuart Newman said it had been unplayable for six weeks and could stay that way until March.
Tunbridge Wells Borough Council said it was working to improve maintenance.
'Not maintained'
Mr Newman said the ground's 11 pitches, owned by the council, were too wet to use and had "not been maintained".
"It should be sanded, it should be drained, it should have fertiliser and should be cut properly. These things just have not been happening," he said.
"Last year we had no football here for four months, which is basically 70% of our football season."
Fixtures are being played on away pitches in neighbouring boroughs.
Cemetery extension
The council said maintenance of its recreation grounds, parks and open spaces and football pitches was carried out by Sodexo under a 10-year contract costing £824,000 per year.
"We acknowledge that in recent years the maintenance of the pitches has not been to the level that we would have liked and we have put in place measures to ensure that future maintenance operations, particularly those that can contribute to better drainage, are carried out appropriately," it said in a statement.
"Where performance has not been to the required standard in some areas rectification and default notices have been issued."
The council said the land was earmarked for a cemetery extension in the long term and so it is looking for alternative sites for pitches.