Southborough Royal Victoria Hall theatre to be demolished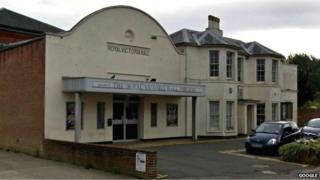 A Kent theatre is set to be demolished after a council said it could not afford to carry out repairs on the building.
Southborough's Royal Victoria Hall first opened in 1900.
The curtains will come down for a final time later after a performance of the pantomime Peter Pan.
Southborough Town Council said it would need to spend more than £200,000 on structural repairs if the theatre was to stay open.
About £7,000 was spent on temporary seating when the theatre was sued after several children caught their fingers in the tip-up seats.
The building would need work on the flooring, roof, toilets and disability access if it was to remain open as a theatre, the council said.
Peter Oakford, chairman of the council, said: "We haven't taken this decision lightly.
"We fully understand why this ancient theatre has a place in the hearts of many Southborough residents, but we have to be realistic."
He said the council had been "fighting for at least the last eight years" to keep the theatre open.
A Facebook page has been set up by campaigners fighting to save the building.
Mark Leman posted; "Just been to see Peter Pan and would be very sad if this was the last Southborough panto, I have been going to them since I was a young lad."
The theatre was built to commemorate the Diamond Jubilee of Queen Victoria and opened to the public in 1900.
Adele Ebbage, chairwoman of the Friends of the Royal Victoria Theatre, said: "We'll keep fighting until the wrecking ball goes in the wall."