Dartford Tesco: Decision to shelve store condemned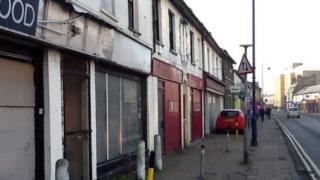 Tesco's decision to drop plans to redevelop a neglected street in Dartford has been described as "appalling" by the town's MP.
The supermarket giant gained permission to build a store and 200 flats in Lowfield Street in November 2011.
Chief executive Dave Lewis said the decision to shelve the scheme had been taken with a "heavy heart".
MP Gareth Johnson said: "This announcement ends a very frustrating and lamentable period for Dartford."
Tesco has announced it is shelving plans to open 49 new "very large" stores, including the one in Dartford, and is closing 43 unprofitable shops as part of cost-cutting measures.
In a letter to the local Conservative MP, Mr Lewis said: "I am very sorry that we have not been able to deliver the investment that we intended.
"I know this news will be a real disappointment to many people in your community and we are extremely grateful for the support we have received for our plans.
"I am very aware of the importance of the site to the local community and I am determined that we will work closely with you and Dartford Council to find the right solution for your community."
Mr Johnson said Tesco had treated Dartford in an "appalling manner" but said at least the decision had brought "some closure".
"Recent decisions from other companies have shown there is a keen interest from businesses to invest in Dartford so we can be positive about the future," he added.
"I personally will be glad to see the back of Tesco but the important thing now is to work on Dartford's future - a development in Lowfield Street without a Tesco store.
"We need to see something that works in the best interests of Dartford and I believe this is now very achievable."