Kent driver jailed for Ashford speed crash death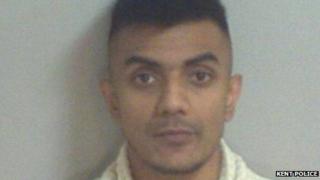 A motorist who was driving at 75mph in a 30mph zone when he killed another driver in a crash, has been jailed.
Junel Miah, 28, of Ashford, Kent, was sentenced to four years in prison at Canterbury Crown Court.
His WW Golf hit Danyl Ponsford's Toyota Celica in Ashford in September 2013, killing him instantly.
Miah was convicted of causing death by dangerous driving at an earlier hearing. He was banned from driving for three years.
Det Sgt Scott Lynch said that if Miah "had been driving at the correct speed and obeying the law the collision would never have taken place".
He said Miah's driving that night was a significant risk to other road users and his indifference to others had cost 26-year-old Mr Ponsford his life.
"Danyl was a well-known and popular young man in his community who had everything to live for but his life was tragically cut short," he said.