Eurotunnel Dover-Calais MyFerryLink appeal fails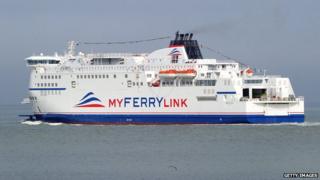 Eurotunnel's MyFerryLink has lost an appeal against a decision its service should be barred from operating between Dover and Calais.
The company was told it must quit the cross-Channel ferry market following a ruling by the Competition Appeal Tribunal.
It has been operating the service since 2012.
A spokesman, from Groupe Eurotunnel, said the company would now seek a buyer for MyFerryLink.
He said: "This decision is illogical. It reduces competition across the short straits and it is contrary to the interests of free trade."
'Commercial success'
Eurotunnel bought three ships from SeaFrance after it went bust in 2012, with MyFerryLink operating up to 24 daily crossings on the Dover-Calais route.
In June the Competition and Market Authority said this meant it had more than half the market when its rail link was taken into consideration.
Jacques Gounon, chairman and chief executive officer of Groupe Eurotunnel, said: "MyFerryLink is an operating and commercial success.
"We are proud to have succeeded where so many others have failed.
"Given the position of the British authorities, the future of MyFerryLink will now be determined outside the group."
The Port of Dover said its thoughts were with those directly affected by the decision.
"Our priority is to ensure our customers continue to be provided with a great level of service and choice," said chief executive Tim Waggott.
"We will also work on delivering our ongoing major investment plans to provide extra capacity and significant new job opportunities for local people."