Tesco urged to 'get out of' Dartford after store is scrapped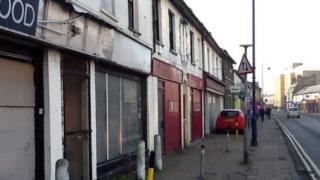 A council has urged Tesco to sell land it owns in a Kent town after it pulled out of building a supermarket with restaurants and more than 200 flats.
Tesco announced it was shelving the Lowfield Street store in Dartford on Thursday along with 48 other "very large" supermarkets it had planned.
"I want Tesco to do the right thing and go. Just go," said Jeremy Kite, leader of Dartford Borough Council.
Tesco said the decision to shelve the scheme was taken with a "heavy heart".
Tesco was given planning permission to build in Dartford in November 2011.
A previous scheme for Lowfield Street, which has many boarded up properties, was rejected following an inquiry in 2005.
'Toxic reputation'
Mr Kite said the supermarket's reputation in Dartford was "toxic".
"Tesco is a damaged brand as far as Lowfield Street is concerned," he said.
"They own large plots of land in Lowfield Street which they have left little more than derelict wasteland.
"They could salvage what little reputation they still have in this community by agreeing to dispose of their holdings quickly."
The council is setting up a new Lowfield Street working group which will include representatives of shoppers, residents and businesses to consider the future of the area.
In a letter last week to the local Conservative MP Gareth Johnson, Tesco chief executive Dave Lewis he was sorry it had not been able to deliver the intended investment.
"I am very aware of the importance of the site to the local community and I am determined that we will work closely with you and Dartford Council to find the right solution for your community," he said.
Tesco was unavailable for a response to Mr Kite's comments.