Family of missing Patrick Lamb thank public after body found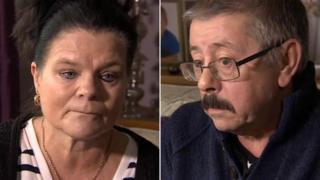 The parents of a man whose body is believed to have been found in the River Medway have thanked the public for helping to search for him.
Patrick Lamb, 28, disappeared during the morning of 13 December after a night out in Maidstone, Kent.
A man's body was found in the River Medway, near Rochester, on Saturday.
His mother Sharon said: "Without these people [who helped search for him] we could have lost Pat completely and I'm so grateful to all of them."
She added: "It's awful to lose a son like that. But at least I've got him... to bury him."
Mr Lamb disappeared following a night out in Maidstone's Bar Chocolate.
A Facebook campaign was set up to find him amid several public appeals for sightings.
The body was discovered at Cuxton Marina when a girl on one of the boats spotted something in the water and raised the alarm.
Kent Police said formal identification of the body will take place later this week.
His father Tony said: "I don't think it has hit home really - the loss that we have actually had. Over the next few days I'm sure that it will sink in."