Lifeguard and PCSO win bravery award for rescuing man in Broadstairs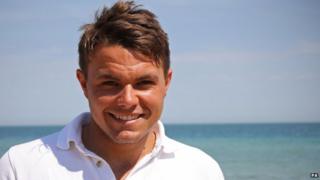 A lifeguard and a PCSO have been given bravery awards for rescuing a man who was swept out to sea in Broadstairs.
RNLI lifeguard supervisor Nick Ayers and PCSO Alex Walker were awarded the Divisional Commander's Certificate of Merit.
In July, an exhausted swimmer who had been hit by a large wave was spotted off Viking Bay. The pair paddled and swam out to rescue him.
They were commended for "outstanding bravery and professionalism".
James Uren, RNLI lifeguard manager for Thanet and Swale, said: "We're all incredibly proud of Nick and Alex for a job well done.
"They both displayed the bravery and professionalism that the people of Kent have come to expect when visiting a lifeguarded beach."