Special measures Stansted C of E Primary School faces closure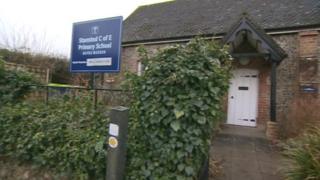 Parents have been told their children's village school may close at the end of the summer term after a series of poor Ofsted inspection reports.
Families at Stansted Church of England Primary were given the news at a meeting on Thursday, and told they should look for other schools.
"I can't believe how we've been treated. It's an absolute mess," said parent Samantha Bedford-Eatwell.
Kent County Council (KCC) said efforts to improve the school had not worked.
The 140-year-old school, near Sevenoaks, was put into special measures in July 2013 when it had 72 pupils.
Since then the numbers have dropped to 34.
Last May its board of governors was replaced with an interim executive board but an Ofsted inspector who visited in December found it was not making enough progress towards coming out of special measures.
Parent Kelly Smith said she still believed in the school.
"The two teachers there have worked so hard to push the school up. I don't know what more they want," she said.
KCC said a great deal of effort had been made to bring Stansted out of special measures but that it was offering children places elsewhere.
"That is not yielding results at the moment," said spokesman Roger Gough.
"It is also the case that when you have very low numbers on the roll the question is whether you are actually providing the best opportunities for the children."