Children's hot water bottles 'could boil and burst'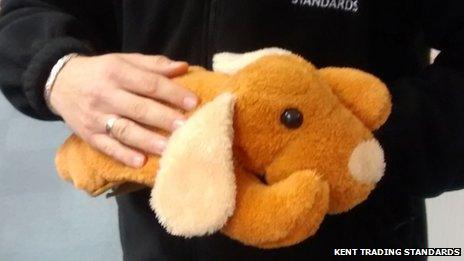 More than 1,200 children's hot water bottles with faults that could cause them to boil and then burst have been seized at the Port of Dover.
The electric devices in a furry dog design had a 60-minute timer and three cooking functions, Kent Trading Standards said.
The electricity is passed through the water to heat it up, breaking safety standards, a spokesman said.
The hot water bottles originated in China and were bound for Hamburg.
Mark Rolfe, from Kent Trading Standards, said: "We can't say with any certainty where they would have ended up,"
Any water leaking from the bottles would have been "live" and there was insufficient insulation to protect the user from electric shock.
The device's mains cable was not adequate in size of capacity to deal with the load and connections were of the wrong type, trading standards said.
Packaging also claimed the hot water bottle had a 16-litre capacity (28 pints) - up to 10 times the capacity of the average electric kettle, the spokesman said.
The hot water bottles were discovered in a lorry at Dover after they were presented for clearance into the UK.
Related Internet Links
The BBC is not responsible for the content of external sites.