Eurotunnel disruption: Police 'babysitting' parked lorries on the M20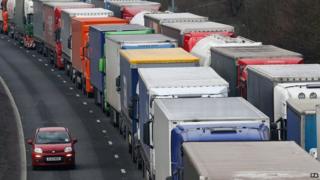 Police officers should be "doing their proper job" and not "babysitting" lorry drivers, the Kent Police and Crime Commissioner (PCC) Anne Barnes has said.
Lorries are queued on the M20 to limit traffic problems caused by an ongoing power fault in the Channel Tunnel.
The disruption has led to talks between MPs and roads minister John Hayes.
Eurotunnel said it was working as "hard as it possibly can" to limit traffic problems caused by power failures.
Mrs Barnes said: "There are 35 police officers helping out... and those people are deeply frustrated.
"They ought to be doing their proper jobs helping local people who pay for them, rather than have them babysit lorry drivers on the M20."
"Eurotunnel makes a handsome profit for shareholders, and when the tunnel is closed for whatever reason, it's not the shareholders who pay, it's local taxpayers who pay.
"It's absolute mayhem on our roads. Is that fair?"
Motorists have been warned to expect "lengthy delays" by Kent Police.
Ian Pointon, from the Kent Police Federation, said: "Once again we see police officers picking up the pieces for the failures of other organisations."
'Other options'
Eurotunnel said said it was now operating a full commercial service and was working as "hard as it possibly can" to limit traffic problems caused by the ongoing power supply fault.
The company said it would be running extra freight services over the weekend in an effort to reduce the number of waiting lorries.
The cross-Channel company said it was sending cars to the Port of Dover and advising hauliers on alternative routes.
Eurotunnel spokesman John Keefe told BBC Radio Kent: "Moving around Kent we understand is very, very difficult. It's difficult for our staff to get to work.
"It's not something we are at all happy to see on the roads of Kent and as far as our bit of it is concerned we're working as hard as we possibly can to resolve it."
"We're talking to our hauliers... [on] what options are available to them and trying to help them find other routes."
Eurostar trains are delayed by about 60 minutes and Eurotunnel passenger services are also held up by about 30 minutes.
Travel
Check if this is affecting your journey
'Government review'
Kent Police said Operation Stack was expected to continue into Saturday and thanked the public for their patience.
Dover Council said the government had ordered an urgent review.
The review will look at the resilience of the road network in east Kent and its ability to cope with periods of severe congestion at Eurotunnel and the Channel ports.
Problems with cross-Channel services developed after thousands of passengers were left stranded by a lorry fire on a train in the Channel Tunnel on Saturday.
The next day power supply problems led to the cancellation of 11 trains.