English Channel lost boat search called off near France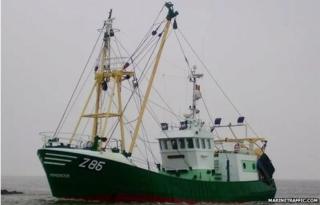 The search for a fishing boat that went missing in the English Channel with four people on board has been called off, the Maritime and Coastguard Agency (MCA) said.
Contact with the trawler was lost when it vanished in rough seas and gale force winds on Wednesday.
Two bodies have been found, along with a lifejacket and debris.
The search and rescue operation four miles off the French coast was being coordinated by the French coastguard.
A spokeswoman for the agency said: "There is no ongoing search and rescue operation.
"Dover Coastguard continues to broadcast to all shipping asking them to be on the look-out for any flotsam and jetsam."
Air and sea searches began on Wednesday by the RNLI, a coastguard helicopter and a search and rescue helicopter from France.
Belgian and Dutch fishing vessels also went out to look for any signs of the missing Z85 Morgenster.
Those on board were said to be Dutch, Portuguese and Belgian.
Two bodies were found in the sea off Boulogne on Thursday and taken to the French port.