Wreck of missing Belgian trawler located in English Channel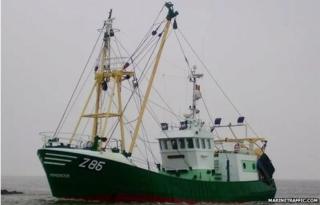 The wreck of a Belgian trawler that went missing with four people on board has been found in the English Channel.
The Morgenster was located about a mile from where it went missing last week off the Kent coast, near Dungeness.
Contact with the trawler was lost when it vanished in rough seas and gale force winds on 28 January.
Two bodies were found the following day, along with a lifejacket and debris. The search for the fishing boat was called off on Saturday.
Those on board were said to be Dutch, Portuguese and Belgian.
On Tuesday the Maritime and Coastguard Agency said the trawler had been located by a survey vessel, and the Dutch authorities had sent a Navy warship to the site.
It is expected to arrive at the scene on Wednesday morning.
On board is a diving team and a Dutch police officer.
Two officers from a Belgian shipping inspection team, which is in charge of the investigation, are also on-board the warship.