Medway Maritime Hospital remains inadequate, CQC says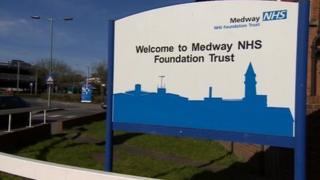 A Kent hospital trust remains inadequate because it is not making enough progress, inspectors found.
An unannounced inspection of the Medway Maritime Hospital in December revealed "some signs of improvement", the Care Quality Commission (CQC) said.
However, there was "still a long way to go" before the required standard was met in the A&E and theatre departments.
The Medway NHS Foundation Trust said it remained "firmly committed to making the changes that are required".
Inspectors initially rated the trust - which was put into special measures in July 2013 - as inadequate, last July.
And in November, the hospital was found to be one of England's worst-performing for the length of time it took to treat patients in A&E.
New leadership team
The latest key findings were the A&E department continued to experience significant issues with transferring patients to wards, resulting in knock-on delays for other patients.
However, they found initiatives had been implemented, including undertaking an initial assessment of all patients within 15 minutes of their arrival in the department.
Clinical leadership was also "starting to develop".
Some improvements were also found "in the delivery of theatre services, although the department was still not being well-led in some aspects".
In one ward however, inspectors found a lack of piped oxygen and suction placed patients at potential risk of harm.
'False dawns'
The trust appointed a new leadership team three months ago and said it had an 18-month plan to stabilise the organisation.
Dr Phil Barnes, acting chief executive, said while the latest inspection was disappointing, "turning the hospital around properly is not a quick task".
"The instability in the leadership team over the last two years has been such that we've had a number of false dawns," he said.
"I am, however, confident that with the team that I've managed to assemble around me, we're dealing with a group of people who are absolutely committed to help Medway and to turn it round from the very top."
The CQC's chief inspector of hospitals, Professor Sir Mike Richards, said it would "monitor the situation carefully to ensure the progress we have found continues".