Rochester Airport's 'future secured' as plans approved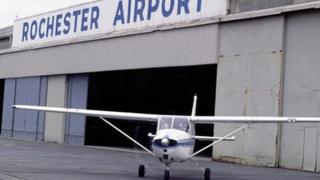 Proposals to secure the future of an airport in Kent and provide up to 1,000 local jobs have been approved.
The scheme for Rochester Airport, which includes a paved runway, three hangars and a control tower, was given initial approval by Medway Council last month.
Full planning permission was given the go-ahead at a meeting on Wednesday.
The council said it hoped the project would "create skilled jobs, enhance tourism and restore the aviation hub to its former glory".
The decommissioning of a grass runway within the airport's grounds will allow for the development of a science and technology business park.
Work will begin at the site later this year.
The airport, opened in 1933, is owned by the council and leased to operator Rochester Airport Limited.
The council said there were no plans to expand the site into a commercial airport.