Ex-Gillingham footballer Nathan Nyafli denies rape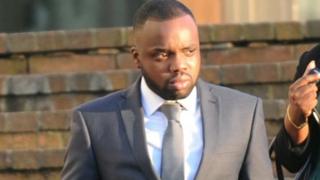 A former Gillingham footballer accused of rape was annoyed a woman he had met in nightclub went home with another man, a court has heard.
Nathan Nyafli went to a flat where the woman was staying and assaulted her while she slept, Maidstone Crown Court was told.
The 21-year-old, of Tollgate Way, Sandling, Maidstone, has denied rape and claimed it was consensual sex.
He has said the woman was awake, recognised him, and consented to sex.
'Attack in flat'
The court heard evidence from Mr Nyafli's friend of several years, Tetteh Johnson, also known as TJ.
It was said Mr Johnson met Mr Nyafli for a night out in Maidstone last May, and the pair had gone to the nightclub, which was where the defendant met the alleged victim.
But he said she and another player, Bradley Dack, went back to a flat in the town which was used by the players.
Jurors heard Mr Nyafli had been annoyed the woman had gone off with someone else and he had wanted to have sex with her.
Describing what happened when he and Mr Nyafli arrived at the flat, Mr Johnson said: "Nathan asked if Bradley had slept with her and Bradley said yes. Nathan asked if she was still in the flat and Bradley said that she was."
The court heard Mr Nyafli went upstairs, and a few minutes later, the woman came downstairs.
Mr Johnson told the court: "I asked 'what's going on?' She said that he had raped her."
'Previous agreement'
Giving evidence, Mr Nyafli said he had been "shocked" by the accusation.
Defending, Simon Taylor asked him: "Did you go back to the flat to have sex with her?"
Mr Nyafli replied: "Yes."
Mr Taylor then asked: "Why did you think you would be having sex with her?"
"Because we had agreed to, previously, in the club," Mr Nyafli told the court.
According to Gillingham FC's website, Mr Nyafli played for the team in 2013 but retired from football in February 2014 because of an injury.
The trial continues.
Correction 24 February 2015: Details about the flat where the alleged offence took place have been amended following updated information from the police.