Rochester Castle marks Magna Carta siege anniversary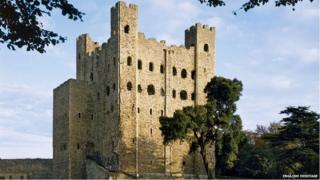 The 800th anniversary of a siege at Rochester Castle which took place at the time of Magna Carta is to be marked with the help of a £37,700 grant.
The Heritage Lottery Fund has awarded the money for a series of events this year at the Kent castle.
King John sealed Magna Carta to appease a group of rebel barons on 15 June 1215 at Runnymede in Surrey.
Rochester Castle was later held in a seven-week siege for the barons against the king, who attacked the keep.
King John breached the southern curtain wall of the structure, causing the south-east tower to collapse.
Foundation of democracy
Rochester's Siege 2015 project will see Medway Council working with local organisations including Strood Academy and the University for the Creative Arts.
They will focus on Rochester's medieval past, castle life, medieval warfare and the town's role in the development of the country as a constitutional monarchy.
"At a time when so much national attention will focus on Magna Carta, this project adds a vivid new dimension to the conflict between King John and the barons," said Councillor Howard Doe.
"It provides the whole community with opportunities to become involved in celebrating a period in history that helped lay the foundation for our democracy."
---
What was Magna Carta?
Magna Carta outlined basic rights with the principle that no-one was above the law, including the king
It charted the right to a fair trial, and limits on taxation without representation
It inspired a number of other documents, including the US Constitution and the Universal Declaration of Human Rights
Only three clauses are still valid - the one guaranteeing the liberties of the English Church; the clause confirming the privileges of the City of London and other towns; and the clause that states that no free man shall be imprisoned without the lawful judgement of his equals
---
Magna Carta is said to have been inspired by the 12th Century manuscript, the Textus Roffensis, written almost 100 years earlier in Rochester.
The Textus Roffensis manuscript will go on display at the Rochester Cathedral later this year as part of the commemorations of Magna Carta.