Arms protesters stage Broadstairs rooftop demonstration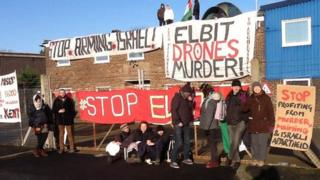 Arms campaigners have staged a rooftop protest at a factory in Kent which they claim provides parts for drones used by the Israeli Army.
A small group of protesters climbed on to the roof of Instro Precision on the Pysons Road industrial estate in Broadstairs at 05:00 GMT.
About 10 more chained themselves to the gates of the factory, a subsidiary of Elbit Systems.
Elbit, which is based in Haifa, Israel, said it had no comment on the protest.
Kent Police were at the scene and blocked access to the site.
One of the protesters, who gave her name as Emma, said they were protesting against export licences being given to the company.
"How else can we get our point across?" she said.
"I have signed every online petition I can, I write to my MP continually, I march, I protest outside these companies' buildings but nothing changes.
"Sometimes you just have to take some direct action like we are doing today."
Elbit Systems' website says that its shares are traded on the Nasdaq National Market (NASDAQ) and on the Tel-Aviv Stock Exchange (TASE).