Hextable Academy to close because of falling numbers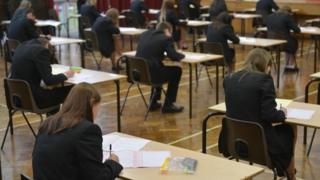 A Kent secondary school is to close at the end of the academic year because of falling student numbers.
Oasis trust said Hextable Academy, in Egerton Avenue, Swanley would be operating at only half its capacity by 2018 if it stayed open.
All students, except those in years 10 and 12, will be transferred to neighbouring schools in September.
Kent County Council (KCC) said low numbers were a short-term problem and it would rather the school stayed open.
Less money
Oasis took over Hextable School in 2013.
It said the school roll had been falling for a number of years and the closure decision had been made with a heavy heart.
"Like every other state school in the country, the funding of Oasis Academy Hextable is based on the number of students that attend," it said.
"If fewer students join the academy then less money is available.
"This hugely compromises the academy's resources and its ability to deliver."
Oasis said it would pay for new uniform for every student moving to a new school, most of whom would be offered places nearer home.
Students in years 10 and 12 will stay for another year to complete GCSE and post-16 courses.
Oasis said it was the first time it had ever closed an academy.
Retain site
KCC said it regretted that Oasis was terminating the contract.
"Our immediate concern is for the current pupils of the school and we are working hard to find suitable school places nearby as soon as possible and with minimum disruption to their education," it said.
"Demand for school places will rise over the next few years.
"We hope to retain the Hextable site and buildings for educational use and will work with the Department for Education and school sponsors to open new secondary provision when it is required."