Ebbsfleet United stadium vandalised during Bromley match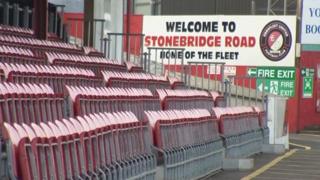 Significant damage has been caused to a Kent football stadium after visiting supporters vandalised the ground and attacked stewards and fans, Ebbsfleet United Football Club has said.
Violence erupted at Ebbsfleet's ground during Tuesday's match with Bromley.
Kent Police said the stadium had been damaged, along with cars and houses outside the ground.
Bromley FC said it condemned the behaviour and would "fully support" the police investigation.
'Unacceptable behaviour'
Ebbsfleet vice chairman Peter Varney said vehicles in the main car park and some belonging to local residents were damaged.
He said the club had photographic evidence of what had happened and would be working with Bromley FC and the police to ensure those responsible were dealt with.
A statement by Bromley co-chairman Ashley Reading said: "Bromley FC wishes to announce that it totally condemns the unacceptable behaviour of the perpetrators of the reported incidents last night before, during and after the game.
"We will fully support Ebbsfleet United and the local police in every way we can. Bromley FC wish to make it clear that we do not and will not tolerate any behaviour of this kind."
He said Bromley would also carry out its own investigation.
Both clubs are in the Conference South.