Dover's World War One story to be told at castle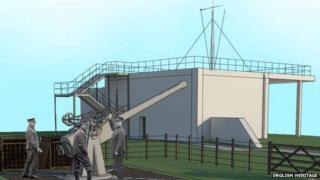 The role played by Dover during World War One is to be told in a £490,000 project at the castle made possible by a grant from the Heritage Lottery Fund.
The harbour town was known as Fortress Dover, with a garrison and training camps for more than 10,000 men. Dover Castle was the military headquarters.
Command and control centres within the castle which protected the harbour and approaches are being repaired.
An original World War One anti-aircraft gun will also be installed outside.
Gun team
Regular blank firings will help recall the threats of the war, when the guns operated in the Dover area against attacking German airships and aircraft.
Volunteers will also be recruited and trained to re-enact the gun team that manned the gun during the war.
The Fire Command Post and Port War Signal station protected the harbour and approaches, and monitored thousands of naval and merchant ship movements.
The command and control centres were also used during World War Two.
The project has been aided by a Heritage Lottery Fund grant of £272,600, along with financial support from The Friends of Dover Castle.