Manston loses search and rescue service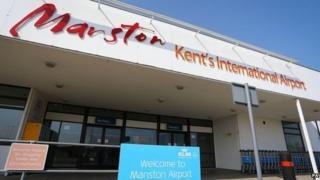 Plans to base search and rescue helicopters at Manston have been scrapped after the airport's closure.
The Kent airfield was announced in 2013 as one of 10 UK bases for the helicopters when private company Bristow takes over the service in July.
But a letter from transport minister John Hayes on Thursday confirmed Manston would no longer be used.
Leader of Thanet District Council Iris Johnston said she was furious and "pretty surprised".
'Uncertain future'
Manston closed in May and a majority stake of the site was sold to regeneration specialists for redevelopment several months later.
However, the nature of the sale and the true ownership of the airport was called into question at a recent Commons Transport Select Committee.
In a letter to the airport's consultative committee, Mr Hayes said: "It is disappointing that Manston Airport's closure has forced Bristow to consider alternative locations.
"The uncertain future of the airport has placed an intolerable risk on the company."
Ms Johnston said it was her understanding that search and rescue helicopters would now be based at Lydd airport on Romney Marsh when the service was handed to Bristow by the RAF and Royal Navy.
She said she felt she was kept in the dark and had still been hopeful the helicopters would go to Manston.
"You didn't need a fully operating airport to have the search and rescue. There you could have that service without having all the rest that goes with it," she said.
'Deliberately misleading'
The former owner of Manston Airport was accused of misleading a Kent MP over her true intentions as to the future of the site which shut last May.
Sir Roger Gale, who represents North Thanet, told the Commons Transport Select Committee earlier this month he believed Ann Gloag had "no intention" of running Manston as an airport.
During the hearing, Pauline Bradley, co-director of the firm that ran Manston, was questioned about Ms Gloag's involvement in the future of the former airport and her ties to the joint venture that now owned the site.
It was put to her that it was "deliberately misleading" to let the committee and public think the airport had been sold to regeneration specialists Mr Cartner and Mr Musgrave.
Ms Bradley replied: "I do not think we have ever tried to say that we do not have a retained interest in Manston going forward. I think that was actually part of the statement that was made at the time."
She also said she did not believe Ms Gloag had "any financial control or other type of control" over the joint venture.