Kent NHS complaints 'change needed now'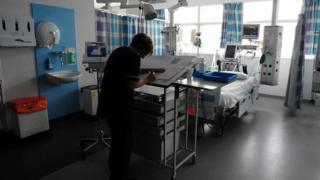 Research into the NHS complaints system in Kent is being carried out by a patients' watchdog that wants to see changes brought in locally before new national policy is developed.
Healthwatch Kent said national measures were under way to improve the complaints system but it wanted to see change sooner.
Healthwatch Kent has commissioned experts to analyse issues in Kent.
Seap wants to hear examples of good and bad practice by next Friday.
The study will also look at social care provided by Kent County Council.
Healthwatch Kent spokeswoman Nicky Scott said many people were too afraid to make a complaint.
"If you're worried about your GP, it's quite scary. You think they'll know and will that affect how they treat you."
She said the system was so complicated that people needed stamina and energy just to make a complaint and often people were unwell when they needed to complain.
"We want people to complain. That's how we improve our services," she said.
She added: "We don't want to wait for government policy. We want to try and make some real change now."
'Hospital policy rewritten'
In Kent, patients had criticised the county's mental health trusts, and the Care Quality Commission (CQC) had criticised East Kent Hospitals NHS, she added.
When East Kent Hospitals was placed in special measures last year, the CQC report said the complaints process was not clear or easy to access, the trust applied its own interpretation of the regulations and had two categories of complaints, and a high number of complaints had been referred to the ombudsman.
A spokesman for East Kent Hospitals University Foundation Trust said the trust remained in special measures but it had done a great deal to improve its complaints processes.
He said the complaints policy had been rewritten, comments had been sought from Seap and Healthwatch Kent, a patient liaison service had been set up, and the trust aimed to telephone all complainants to ask how they would like their issues handled.