Tunbridge Wells' historic Chalybeate spring flows again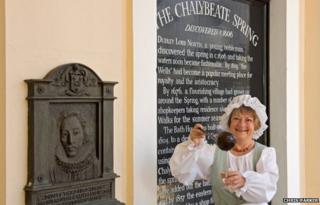 A spa town spring has started flowing again seven months after it mysteriously ran dry for what was thought to be the first time in 400 years .
The Chalybeate Spring in Tunbridge Wells, which gave the town its name, stopped last June.
Costumed "dippers", who traditionally dispense the iron-rich water to tourists, are also set to return.
A reason for the sudden stoppage has yet to be discovered, the council said.
Councillor Jane March, cabinet member for tourism, said reports of "intermittent" water flow had first been received over the new year period and the spring was now flowing consistently.
In the 18th Century, the chalybeate spring was part of a daily routine for visitors to the town, who would take a glass of spring water from a dipper.
The tradition still continues, although the bonnet-clad servers were forced to shut up shop last year after the spring ran dry.
But they are now set to return at Easter, the council said.
Tunbridge Wells Borough Council said it would continue to investigate why the spring, in The Pantiles, stopped, and monitor any changes.