Dartford WW2 veteran backs war pension law change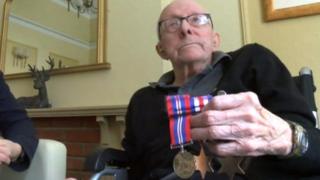 The family of a WW2 veteran who is left with £10 each week from his war pension has backed a campaign to change the law on care costs.
Fred Cannon, 90, was shot in the leg during the D-Day landings in 1944 and now lives in a home in Dartford, Kent.
Mr Cannon's family has objected to the use of his £100-per-week war pension to fund his care, and said it should be protected.
Kent County Council said it was acting in line with government regulations.
Under current legislation, anyone wounded in active service after April 2005 has all social care costs paid in full, the British Legion said.
Mr Cannon's family said the same financial help should be available to those injured in earlier conflicts.
Mr Cannon's son, Paul, said he did not object to the use of state and employment pensions to fund his father's care.
"What myself, and the rest of the family are really annoyed about, however, is the fact that my father's war pension has also been taken by the council," he said.
Paul Cannon said the family had not told his father the money from his pension was being taken by the council.
Instead, he said, they had told Mr Cannon the authority was currently reviewing his case.
"He's a proud man and he doesn't want to feel as if he's a burden on the family," he said.
Fred Cannon said: "I think it stinks. I'm not being nasty and I'm not being funny, but I've got injuries, and they want to take it away from me."
Kent County Council (KCC) said £10 from war pensions is disregarded when calculating care costs for residential care.
The legion is campaigning to have war pensions excluded from means testing calculations.
A government spokesman said it was working with the British Legion to consider how war pensions were assessed in relation to care costs.