Bolney vineyard raiders steal 5,000 bottles of wine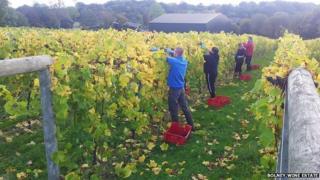 Almost 5,000 bottles of wine were stolen from a warehouse during a break-in at a vineyard in West Sussex.
Bolney Wine Estate said the theft of red, white, rose and sparkling wines, worth more than £80,000, was discovered on Friday morning.
"Pallets of wine we had ready to go out were empty, with just the shrink wrap and the pallets on the floor," said head winemaker Sam Linter.
The wines were destined for stores including Waitrose and Marks & Spencer.
Other deliveries were due to go out to local independent merchants.
'Feels personal'
"We were so shocked - it's just an awful feeling," said Ms Linter.
"The whole team at Bolney work so hard and we are so passionate about what we do.
"We have had equipment stolen before but this is so much more personal to us."
The vineyard has been making wines since 1976 but none has been stolen before.
Ms Linter said it was now going to fit CCTV cameras.
"Within the English wine industry, in the past people have said it's niche market so it is harder for people to sell on," she said.
"I have had lots emails and texts from colleagues in the industry saying this is a wake-up call to all of us.
"Now that English wine is so much better known it is attractive to thieves and maybe we have been a bit complacent about that."