Claire Tiltman: Friends remember murdered schoolgirl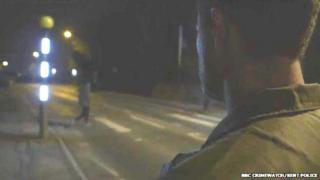 Friends of a murdered schoolgirl whose killer was not convicted until 21 years after she died have talked of how the crime changed their lives.
Claire Tiltman, 16, was stabbed to death in an alleyway near her home in Greenhithe, Kent by Colin Ash-Smith in 1993. He was jailed for life last year.
"We miss those days at school, but what happened changed everything," friend Joanne Roberts told BBC Crimewatch.
Monday's programme will feature a new reconstruction of the murder.
'No forensic evidence'
Ex-milkman Ash-Smith, 46, was told he would serve a minimum of 21 years in jail, in December last year.
The defendant, who is already serving life for attacks on two other women, was first questioned as a suspect in 1995.
He was finally convicted after he told a fellow prisoner about attacking someone he saw using a zebra crossing.
Claire's friends and fellow Dartford Grammar pupils tell the programme she was "good fun" and a "big character".
"I remember feeling, 'How can the world carry on?'," says one, Vicki Atkins.
"How can all these people around me be going to school and work and Claire's not doing that?"
Later she continues: "A guilty verdict doesn't bring Claire back but it does allow us to draw a line under it and move on, remember her for what she was and the great person she was in our lives."
Det Supt Rob Vinson said the inquiry into Claire's killing was one of the largest murder investigations Kent Police had run up until that stage.
"We didn't have the forensic evidence, we didn't have the witnesses, but what we had was a very, very strong story when you put all the small pieces together," he said.
"Old fashioned detective work from so many people over so many years have brought this case to a resolution."